Exclusive spotlight interview with Kayam Iqbal - International Men's Day 2020
Posted Thursday 19th November 2020
2020 has been a difficult year in many respects and particularly for mental health. This month, Simon Wallis (Joelson Litigation Senior Associate) seized the opportunity to speak with inspirational public figure, Kayam Iqbal, to find out his views and first-hand experiences on some of the critical issues that are being addressed as part of International Men's Day (IMD). Some of the issues include: male suicide, homelessness, violence and domestic abuse, and challenges associated with being a new parent. A full list of the themes and issues can be found here and key statistics can be found here.
Kayam is a British, Muslim, former RAF serviceman who toured in Iraq and Afghanistan (he specialised as a medic and also as a language specialist working covertly with NATO and specialist UK units), founder of The OppO Foundation, OppO Recruitment, JobOppO and OppO Security, and Hunter on the Channel 4 TV Show 'Hunted'.
Following 9/11, Kayam experienced hostility and racism for being Muslim and having a military background. Kayam's last tour in Afghanistan unfortunately led to him suffering severe post-traumatic stress disorder (PTSD) and depression, which led to him being medically discharged from the military.
Kayam is committed to breaking down stigmas around mental health and is proud to be helping ex-servicemen and women return to civilian life through The OppO Foundation.
Read on for Simon's exclusive interview with Kayam.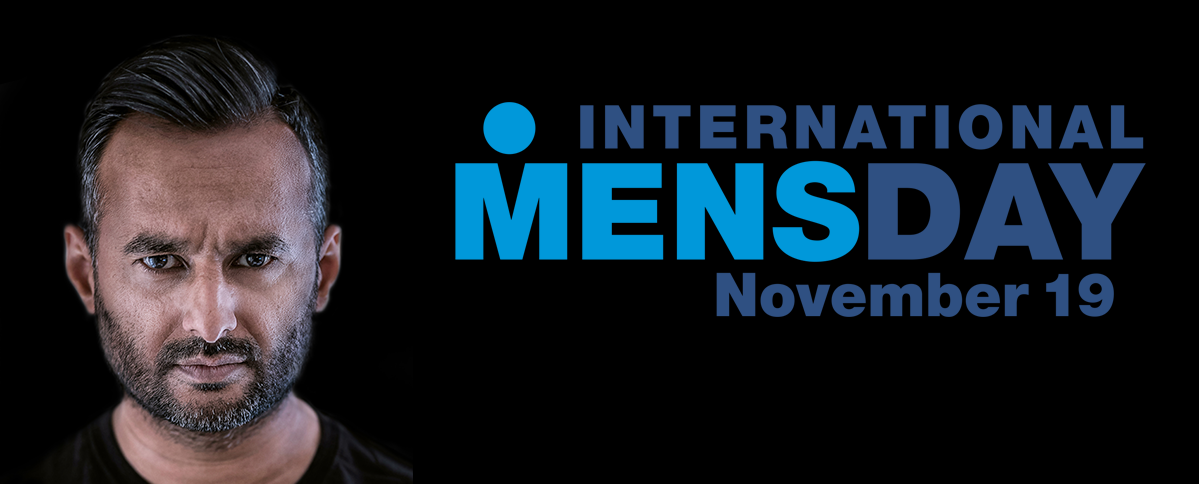 ---
Q: You must be very proud of all you have achieved in setting up OppO Recruitment (a recruitment company specialised in helping ex-military and civilians find jobs). What led you to set it up?
A: After almost 12 years in the military my career ended abruptly. With so many qualifications, I ended up selling scratch cards for £6 per hour with Camelot. As you can imagine, it was truly devastating. However, the military teaches you about resilience and adversity. Whilst seeking treatment for my PTSD, selling scratch cards, I decided to study PRINCE2, Change Management, MSP, ITIL etc. and was fortunate to end up working at large corporates within project management, managing multi-million-pound projects. It was never enough, though, so in the background I setup OppO Recruitment and JobOppO. Many of my friends were leaving the military and I felt more needed to be done for those transitioning back into civilian life. 
---
Q: Breaking down stigmas around mental health is clearly a cause you hold close to your heart and are passionate about. Can you tell us about your own experience with PTSD and depression?
A: As a medic in Iraq and being so young, myself and many were never ready to see the things we did. No one wants to hold a crying baby in their arms and see such devastation. No one knew really what PTSD was back in 2003. It had a huge impact on me as a person on my return to the UK. Afghanistan was a different story, as I worked covertly and was involved in providing over 60% of all intelligence within Southern Helmand Province. I made decisions that to this day I still think about and dream about. Were they the right decisions? Could I have done anything differently? I always felt that being in the military I had to create a certain perception amongst my peers and also family – one of being a 'tough man', nothing could bother me! Inside, I was dying. I was angry. I felt no one cared. I had had enough. I contemplated suicide many times. The closest I got was hanging off a motorway bridge until a lorry kept his hand on the horn and I snapped out of it. Over the last few years, mental health has really come forward into the public eye and talking about things helps. I suppose the medication also has a part to play!
---
Q: Men make up three out of every four suicides in England and Wales (in 2019 this equated to 4303 deaths). Do you think there are stigmas around men seeking help for their mental health? If so, how can we help to break these stigmas down?
A: Yes. It is hard for many men to admit they have mental health issues or are facing problems that they cannot deal with or may need help with, especially within workplaces. If you have people around you who are doing similar roles, it's difficult for you to admit you need help and unfortunately many men find it difficult to raise their hand. To break down this stigma, it really does need just a few people – or even one within an organisation – to admit they have faced issues, talk about their own personal stories, and talk about the impact it had on their work, personal life etc. This will be tough for anyone. However, the moment one person does it, it becomes a snowball effect where it rolls down the hill and people reach out to that person or then talk about their own issues. Alternatively, get a speaker in and talk openly, 'no holds barred', and ask questions!
---
Q: Following your own battle with mental health, can you share with us any tips, methods or systems you have in place for how you look after your mental health?
A: Routine is key. We all know the usual things to maintain a healthy mind and support your own mental health, such as regular exercise, good food, breathing techniques etc. However, the hardest thing is always implementing them into your routine; even now for me this is the case. What I do is ensure I get up early and my first task ALWAYS is making the bed. Once that's done, I go through my routine and ensure I set myself notes on my phone or on paper (I prefer paper) of some of the tasks that need completing that day, from personal to work. If I complete more than 50%, I am happy with that and content. In the current climate with lockdown, going for a long walk and listening to music helps me. I also enjoy listening to Only Fools & Horses, Dads Army and Steptoe & Son! I know, before my time, however I find it funny and when something makes you smile each day, it helps you cope with some of the other thoughts. My two beautiful children and wife of course help too.
---
Q: This year has been a terrible time for those living with domestic abuse (this affects all genders, but some may be surprised to hear that one in three of those affected are men). It is important to remember that domestic violence and domestic abuse is not just physical abuse; it can be emotional and psychological harm, coercive control or the act of isolating someone.
How can we break down the myth that domestic abuse doesn't happen to men, encourage men to seek help and in turn encourage society to be more vigilant to it?
A: It's a fear of coming across as weak in front of others. The shame, embarrassment and care for what others may think (including those in your local!). How can we break this down? Tell someone. Speak to your close friends. The moment you do this, hopefully the shame and embarrassment will then turn to your partner. Feeling confident in yourself is important for both men and women. It is not easy talking about things, however organisations that highlight issues provide a level of comfort and strength to those who may be suffering with issues at home. It makes you feel that it is not just you and that people are talking about it. It took me many, many years to talk about my mental health. It's only when I noticed that others were in the same position that I felt less ashamed.
---
Q: Most homeless sleepers in the UK are male (85%). Given the link between unemployment and homelessness, what do you think more businesses can be doing to help men and women who are out of work (including those who served their country)?
A: With many of the corporates and government agencies I work with and advise on recruitment and D&I, I see huge organisational support and countless initiatives. However, many of those initiatives do not 'take off' the way they anticipate, purely due to a lack of understanding or not having the right people to advise.
As many of us know, a homeless person will often ask for money and, when they do, we are sceptical about what will they do with that money. However, if you dive deeper into the issues, one of the key things that many homeless people want is employment – a second chance – a chance to prove things not just to others but to themselves. Homeless charities work tirelessly in raising funds for food and shelter – which is critical – but at ground root level, we have to think differently sometimes. What about if an organisation helped support just one homeless person with employment, housing etc.? Is that a success story? Absolutely! But what would be the ideal outcome in year two and three? Well, that individual could be responsible for looking at growing the project and delivering it on a wider scale, helping others and showing other clients how they achieved it. 
---
Q: Becoming a parent can be a life-altering change and it takes time to adjust. Was there enough support and information available to you when you became a new father? What main challenges did you encounter when becoming a new parent?
A: Is anyone ever ready? Not many. You start to become less selfish – which, although I never felt I was, unfortunately I was! No more late nights (well fewer) and the time I spend with the family and seeing the children laugh and smile with no real issues to think about (except things like losing a toy!) is amazing. Is there enough support? For me there was, yes. Many people will have families and loved ones to advise and guide. There is a huge amount on social media also, but importantly no one is ever ready and it's all about taking things as they come. As parents, you always make mistakes. We have made many with our first but learnt quickly and never made those same mistakes with our second – just new mistakes!
---
Q: Kayam, thank you so much for your insights into some difficult but extremely important issues. We hope this brings some of these subjects to light and encourages more people to engage in conversations about them. Do you have any final thoughts or words of advice you would like to share?
A: Truly a pleasure. My parting words to anyone suffering from mental health issues is that you should talk to others, discuss your issues and don't feel that you are the only one going through it. I can almost guarantee that there is a colleague or someone you know who has gone through, or is going through, something similar. As an organisation, bringing in speakers to talk candidly is important also. Stay safe and thank you.
---
More about The OppO Foundation
The OppO Foundation has won numerous accolades including the BBC Three Counties People Gold Award for Diversity and Equality in 2018. The charity supports military personnel and their families through the challenges they face when leaving the services, in employment, housing, education/training and health and wellbeing. Its latest projects included donating boilers to veterans, supporting wounded veterans aspiring to compete in the Paralympic Games or Invictus Games, and providing inspirational speakers to the public and companies during Covid-19 – offering motivation, inspiration and help with mental health resilience. Click here to find out more on what Kayam has been doing since leaving the military.
---
This article is for reference purposes only. It does not constitute legal advice and should not be relied upon as such. Specific legal advice about your specific circumstances should always be sought separately before taking or deciding not to take any action.
---
Share this article